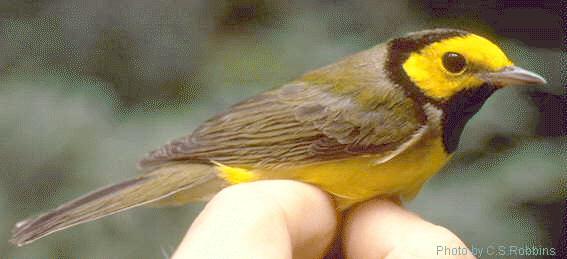 Hooded Warbler Wilsonia citrina


I always liked birds, but before I met Ray, I didn't know that much about them. Ray participated in the North American Breeding Bird Survey. All over the United States and Canada, expert birders go out in June and run designated routes and count birds. Each route is 24.5 miles long with 50 stations. Starting time for each route is technical sunrise for that particular area. My first year of association with Ray, he asked to me to come along and help with the survey. He said all I would have to do is drive the vehicle, record the birds as he named them off, and be in control of the stop watch and let him know when three minutes was up. That sounded easy enough. It also sounded like fun.

The evening before we were to do the survey, we drove to near the first station and camped out. Ray informed me that the survey begins at precisely 5:25am. He then handed me a list, a large list, and told me to familiarize myself with it.

The next morning we got up at 4am, packed our gear and drove to the first station. We were getting ready to start the survey at 5:25, but it was still very dark. I remember thinking, "He isn't going to get many birds until it gets light." At 5:25, I hit the stop watch and said "Go!"

Ray began, "Yellowthroat, cardinal 2, indigo bunting 3, redwings 6, towhee, wood thrush 2, robin 5..."

"Ahhhhh, what was after cardinal?"

"Indigo bunting 3, redwings 6, towhee, wood thrush 2, robin 5, add another yellowthroat, song sparrow 3, field sparrow 2...."

"Ahhhhh, how many robins?"

"FIVE! Yellow warbler, titmouse, red-bellied woodpecker..."

"Ahhhhh, how many field sparrows?"

"TWO! You turkey!"

"A turkey?"

"Yeah! Sitting right there in the car!"

That was how I found out that expert birders identify birds more by song than by sight. I never considered that Ray would be counting birds by their song. Almost every species can be distinguished by the males song. Not only was he identifying them by song, he was counting numbers of the same species. Later at one stop, a cloud of grackles flew up behind a barn. Ray studied them for a moment. "Grackles 137," he said.

After a couple of years of doing these surveys with Ray, I no longer had any trouble keeping up with Ray. It was not because I became familiar with the list. It was because I could hear and recognise the birds at the same time Ray did and I already knew what he was going to say. I did these surveys with Ray for 13 years. Ray is gone now and now I run his routes and I am the observer in the survey.

Ray taught me there is a symphony being played for us all the time. Each species represents a musical instrument in an orchrestra. The music is always different because the orchestra is made up of different instruments depending on your locality. It is the most beautiful music in the world, but few people seem to even be aware of it. Take the time to listen and you will not be dissappointed.

Patuxent Bird Identification InfoCenter



You are visitor


since 21 February 1999
FastCounter by LinkExchange